NC 1-Axis LM5 5030/5025 Centerless Grinder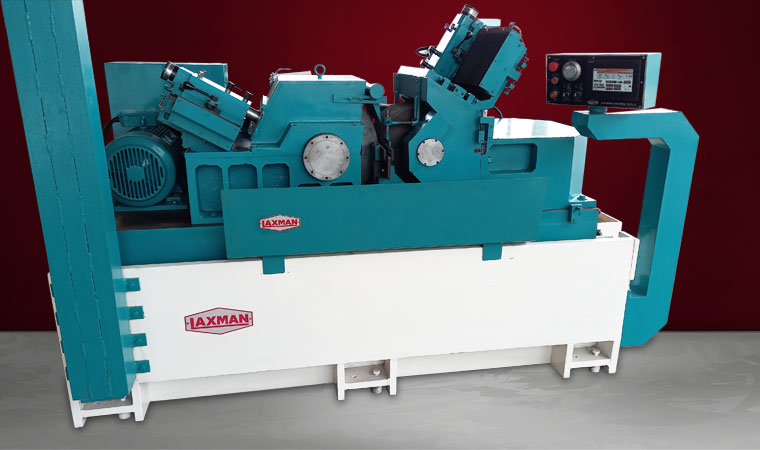 | | |
| --- | --- |
| Range of Dia to be Grind | 2 to 150mm |
| Max. Length in-feed grinding | 298mm / 248mm |
| Grinding wheel Size | 500x300x304.8 / 500x250x304.8 mm |
| Regulating wheel Size | 350x300x152.4 / 350x250x152.4 mm |
| Grinding wheel Motor Power | 20HP Motor/ 15KW |
| Regulating Wheel Motor | 3Hp /2.2kW GW Slide Servo 2KW |
| GW Dressing Gear Motor | 0.040 KW RW Dressing Gear Motor 0.040 KW |
| Lubrication Motor | 0.25hp/ 0.18kw |
| Coolant Pump | 0.5 Hp /0.375 KW |
| Magnetic Coolant Filter M | 0.25 HP/ 0.187 KW |
| Machine Dimension LxWxH | 2800x1700x1800 |
| Machine net Weight | 5000kg Aprox |
Standards Accessories
Grinding wheel, Regulating wheel, Wheel Flange, Coolant pump, Magnetic Filter with Tank, HMI, PLC, Switch Gear, Push button, Penal Board with Ele fittings, Grinding wheel Motor, Regulating wheel motor, Servo Motor, Lubrication Motor ,Pulleys , V belt, VFD fitting in regulating Wheel Head., Through feed & In feed Blade etc.
Extra Accessories
Auto Spindle Wheel Balancing arrangement, Wheel Balancing external portable arrangement, Extra Grinding Wheel Flange, Extra Throofeed Blade, VFD in grinding wheel head, Paper band Filter, Machine Lamp, D.R.O. Scale, Auto Loading / Unloading/ Feeder/ Vibrator / Job injector, Wood Box packing etc..
Machine Description
LM5 Meet The Criteria For High Productivity Centerless grinding , the Machine is suitable for both in-feed and Thru-Feed Grinding of small to big size part. The large Wheel Size of OD500mm With Improves the Cycle Time
Super rigid structure, stable without deformation. Double support grinding wheel spindle design features high speed operation to boost grinding performance. customized Fitted with wider wheel, suitable for efficient mass production.
Grinding Wheel Head
Grinding wheel driven by V belt drive and Twin support cartridge preload precision bearing spindle for achieve good surface finish and hi radial accuracy , Twin support spindle give hi rigidity in machine also increase load caring capacity of machine
Regulating wheel Head
Regulating wheel control by direct couple gear box with A/c variable speed control drive and Twin support cartridge preload precision bearing spindle for achieve best grinding performance and hi radial accuracy for every size of jobs
regulating wheel head have adjustable inclination angle and swivel angle for adjust job feeding rate and Grinding cutting position
Main Slide
Both head have individual slide movement for get hi rigidity and best grinding performance
The One '' v'' & One flat feeding slide design reinforce the feeding stability in both Slide. The Entire feeding slide tersite coating and hand scrapped to reduce frication and to increase accuracy of slide movement
Both slide and Both Ball screw nut have central Automatic Lubrication system for smooth sliding
Lubrication system have Low Oil level and low Oil presser indication on Hmi Grinding wheel head slide control by Ball screw and nut, servo motor, Servo planetary gearbox, HMI, PLC and MPG for accurately traveling
Heavy duty and high weight slide move with Smooth and accurate traveling in low power consumption is possible by Servo Planetary Gearbox
MPG give hi accurate and fast offset setting for grinding setup
Also give selecting Accurate feeding Pulse in 1micron, 10micron, 100micron
Auto infeed grinding cycle possible with adjustable Rapid stock, cutting feed and spark out, return cycle timing, lubrication timing
Regulating Wheel Main Slide Manual Hand operated
Dressing Slide
Both Dressing slide Control by Gear Motor with A/c Variable speed control drive, LM Guide way and ball screw to get fine feeding and long life dressing for good ra value in jobs
Both Dressing Slide have Spring Loaded Pilot operated Temples dressing And eccentric back laver arrangement
which can give accurate straightness in grinding wheel and Regulating wheel
Regulating wheel dressing slide have truing( swivel) angle and taper( inclination) angle
Regulating wheel Dressing Slide diamond holder have offset Arrangement which can use for increase griping line to achieve good roundness, straightness and increase load caring capacity for long jobs
Blade Rest
Blade Rest is resting on individual platform, There is no connection of Both slide, it have adjustable swivel angle
Coolant System
Machine Have Aprox 300L Coolant tank , coolant tank have 6 partition for separate dust in coolant , Coolant tank have 100L Magnetic Coolant Filter for remove magnetic particles
Tank have 0.5hp pump Which can give 175L displacement of coolant Both dressing and Grinding wheel Have individual Solenoid valve to operate coolant directly form HMI
Crain
Machine have inbuilt universal loading-Un Loading arrangement for both spindle to change wheel