CNC 3-Axis LM3/LM4 Laxman Centerless Grinding Machine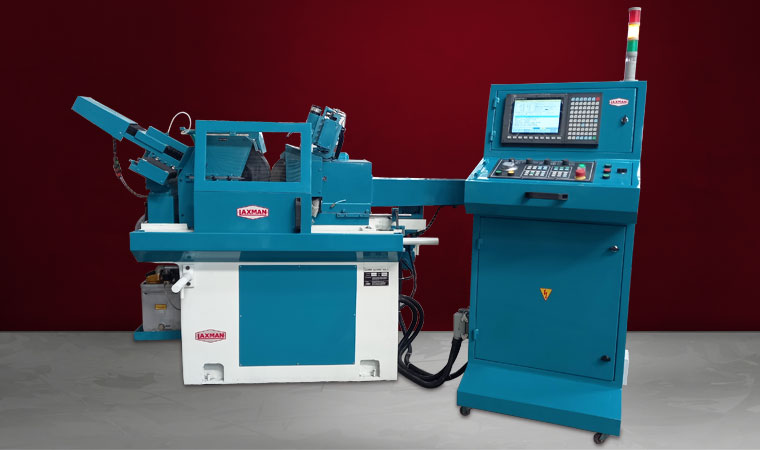 | | |
| --- | --- |
| Range of Dia to be Grind | 2 to 75mm |
| Max. Length in-feed grinding | 98mm /148mm |
| Grinding wheel Size | 350x100x127 / 350x150x127 mm |
| Regulating wheel Size | 230x100x127 / 230x150x76.2 mm |
| Grinding wheel Motor Power | 7.5 HP Motor/ 5.5 KW |
| Regulating Wheel Motor | 1Hp /1.2kW With VFD Control and Gear |
| Box Main Slide X-Axis Servo M | Servo Motor 750W With Servo Gear Box |
| GW Dressing Y-Axis Servo M | Servo Motor 400 W |
| GW Dressing Z-Axis Servo M | Servo Motor 400 W |
| RW Dressing Gear Motor | 0.040 KW |
| Lubrication Motor | 0.25Hp /0.18Kw |
| Coolant Pump | 0.25 Hp /0.187 KW |
| Magnetic Coolant Filter M | 0.25 HP/ 0.187 KW |
| Machine Dimension LxWxH | 1600x1400x1550 mm |
| Machine net Weight | 1500kg Aprox |
Standards Accessories
Grinding wheel, Regulating wheel, Wheel Flange, Coolant pump, Magnetic Filter with Tank, CNC Controller, Switch Gear, Push button, Penal Board with Ele fittings, Grinding wheel Motor, Regulating wheel motor, X,Y,Z Axis Servo Motors, Lubrication Motor ,Pulleys , V belt, VFD fitting in regulating Wheel Head., Through feed & In feed Blade etc.
Extra Accessories
Wheel Balancing stand and arbor, Extra Grinding Wheel Flange, Extra Throofeed Blade, VFD in grinding wheel head, Paper band Filter, Machine Lamp, Auto Loading / Unloading/ Feeder/ Vibrator / Job injector, etc..
Machine Description
LM 3/ LM4 Meet The Criteria For High Productivity Centerless grinding , the Machine is suitable for both in-feed and Thru-Feed Grinding of small to big size part. Machine designed for take high accuracy with high load caring capacity
Grinding Wheel Head
Grinding wheel driven by V belt drive AC Motor and VFD Controlled and White Metal Hydrostatic Bush bearing spindle for achieve good surface finish and hi radial accuracy , External Pump lubrication & Oil safety Future give very good Spindle and bush life.
Regulating Wheel Head
Regulating wheel control by direct couple gear box with A/c variable speed control drive and cartridge preload precision bearing spindle for achieve best grinding performance and hi radial accuracy for every size of jobs
regulating wheel head have adjustable inclination angle and swivel angle for adjust job feeding rate and Grinding cutting position
Main Slide (X - Axis)
X-axis slide made form heavy duty cast base, Base slide have Preload Roller Type LM Guide way get hi rigidity and best grinding performance, Ground Ball screw, Servo motor Servo gear box to get high precision accuracy and controlled by CNC Controller.
This axis use for job cutting and dressing compensate purpose.,
This slide have swivel angle to adjust taper of job in Plunge grinding. Auto and Manual lubrication is available in this slide & ball screw.
Hand scrapped Upper dovetail slide design reinforce the feeding stability & rigidity in regulating wheel head. also have manual Lock Arrangement for upper slide
Both slide and Ground Ball screw nut have central Automatic Lubrication system for smooth sliding
Lubrication system have Low Oil level and low Oil presser indication on screen
Dressing Slide
Grinding Wheel Dressing (Y - Axis , Z- Axis )
Grinding wheel dressing unit made by Two Axis (Y,Z), Both Slide Servo Motor, Ball screw and LM Guide operated . It is Controlled by CNC controller , Z axis Spring loaded and template operated to get precise straightness in grinding wheel. Y Axis Taper adjustment available.GW Dressing unit angel give resistance from coolant
Regulating Wheel Dressing
RW dressing unit made by Lm guide way, ball screw and VFD operated Gear Motor to give slide reverse and forward fine movement. Depth of cut done by manual hand operated. RW dressing have template & pilot operated dressing . Regulating wheel dressing slide have truing( swivel) angle and taper( inclination) angle
Coolant System
Machine Have Aprox 75L Coolant tank , coolant tank have 4 partition for separate dust in coolant , Coolant tank have 50L Magnetic Coolant Filter (optional) for remove magnetic particles Tank have 0.25hp pump Which can give 50L displacement of coolant