CNC 2-Axis Laxman Cylindrical Grinding Machine
Excellence is our Passion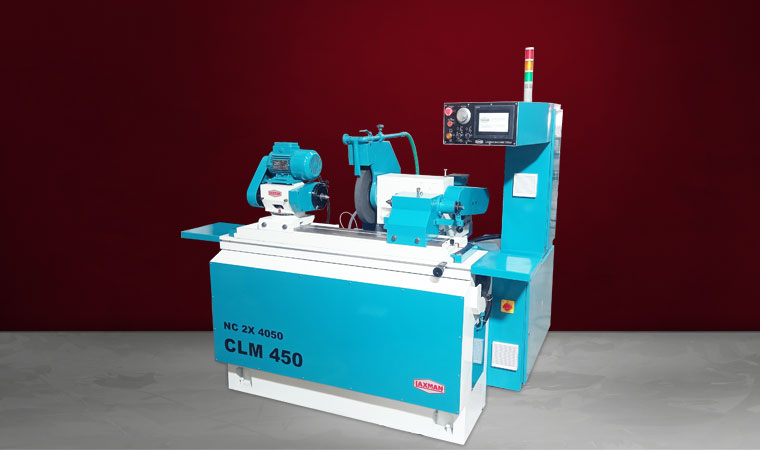 MODEL CLM4 Cylindrical
Our cylindrical grinders are very popular for their sturdy construction, efficiency and precision engineering. We procure the best quality raw materials to manufacture this grinder.
Specifications
Model
CNC CLM-2
CNC CLM-3
CNC CLM-4
General
Max. distance between Centres
450 mm.
600 mm.
1000 mm.
Max. Grinding length
450 mm.
600 mm.
1000 mm.
Height of Centre
150/175/200 mm.
150/175/200 mm.
150/175/200 mm.
Grinding Wheel
Max. Grinding wheel Size OD X Width X ID
350x40x127 / 400x40x127
350x40x127 / 400x40x127
350x40x127 / 400x40x127
Linier Velocity
33 M/s
33 M/s
33 M/s
Work Head
Swivel Range
45°
45°
45°
Spindle Morse Taper
MT3/MT4
MT3/MT4
MT3/MT4
No. of Speed
Variable
Variable
Variable
Work Table
Swivel Angle
-2 to 7 Degree
-2 to 7 Degree
-2 to 7 Degree
Tail stock
Taper Hole
MT3/MT4
MT3/MT4
MT3/MT4
Travel
X-Axis Rapid Feed Rate
6000 mm/Min
6000 mm/Min
6000 mm/Min
X-Axis min. input Increment
0.001 mm
0.001 mm
0.001 mm
Z-Axis Rapid Feed Rate
6000 mm/Min
6000 mm/Min
6000 mm/Min
Z-Axis min. input Increment
0.001 mm
0.001 mm
0.001 mm
Power source
Fanuc/Siemens
Power: 220V cont. Cir: 24VDC
Drive Motor
GW Head Spindle
3Hp/2.2 KW
3Hp/2.2 KW
3Hp/2.2 KW
Work Head Spindle
1Hp/0.75 KW
1Hp/0.75 KW
1Hp/0.75 KW
X-Axis Servo Motor
1.5KW
1.5KW
1.5KW
Z-Axis Servo Motor
1.5KW
1.5KW
1.5KW
Lubrication Motor
0.25Hp/0.18KW
0.25Hp/0.18KW
0.25Hp/0.18KW
Coolant Pump
0.15Hp/0.1KW
0.15Hp/0.1KW
0.15Hp/0.1KW
Total Weight
Net Weight
1500kG
1950KG
2300KG
Standard Accessories
saw blade motor, coolant pump, Hydraulic Motor, Servo Motor, Hydraulic Tank without oil, Hy. Solenoid Valve, Hy. Pump, Push Button, HMI, PLC, Proxy, Switchgear with electric fittings, , Chip removing tray, chip removing brush, Pully , V- Belt, short bar support, Vice harden Plate, One bi metal blade, Gearbox Oil, etc.
Optional/ Extra Accessories
Extra Wheel flange
Wheel balancing stand with arbour/ portable wheel balancing instrument/Automatic grinding wheel balancer on spindle
Internal Grinding Attachment and ID spindle
Three Point and Two Point steady rest
variable speed Control AC drive in Grinding wheel Head with digital read out
Cartridge spindle / Hydrodynamic/ filmatic bearing spindle
Auto In process gauge/ Arm Type In Process gauge & Interrupted surfaces.
Linear Glass Scale
Servo Voltage Stabilizer
Diamond Roller type dressing unit with spindle, Without Diamond Roller
Hydraulic Tailstock
Machine lamp
Chuck Plate/ 3Jaw chuck/4 Jaw Chuck/ Hy Chuck
Magnetic Separate / Paper band filter/ Magnetic Separate with Paper band filter
Auto Loading & UN-loading System
Wood Box Packing
Feature
BODY The base is made of close-grained cast iron and is well ribbed. It is made particularly heavy to prevent vibration and distortion the guide ways - one side flat End the other V type are precision hand scrapped to match the corresponding surfaces of the table slides. Longitudinal travel of the table is by Ball screw and servo motor arrangement and automatic and manual Control by CNC Controller and MPG.
CNC Cylindrical grinding machine have Twin support ground ball screw fitting for Both Axis so it can give hi Accuracy in plunge and travel grinding process Also get Great ripit accuracy in Grinding process
Both Slide way of table advance Lubrication system, this provide various features , such as extremely smooth movement, Added feed accuracy and superior grinding accuracy.
WHEELHEAD The rigid wheel head spindle is made of EN 24 or 353 steel hardened and ground. It runs is adjustable type bush bearing. (Optional available hi precision bearing pair fitted cartridge spindle) The spindle is tapered (5o) at the front to receive the wheel flange. the bearing surfaces.
WORKHEAD The work head spindle is made of nickel chrome steel EN-24 or 353 hardened & ground. runs in gun metal bush bearings or in Angular contact bearing. The drive to the work head spindle, which has MT-3/MT4 is by a 1 step 'V' pulley. The speed obtained through VFD control AC motor. The work head is built for grinding operation both with stationary centre and revolving spindle. oil cups are provided for lubrication.
DRESSING UNIT The dressing unit consists of a single point fixed dresser which is capable of profile dressing as well as straight dressing. Diamond Roller dressing with spindle for wear less and accurate dressing available as Optional accessories.
INTERNAL GRINDING ATTACHMENT The spindle of the internal grinding attachment which is suitable for grinding cylindrical and tapered is made of EN-31 and is ground. It runs in preloaded magneto ball bearings-two in the front and two is the rear. The drive to the spindle is by an independent motor through endless nylon flat belt. The hinge-type internal grinding attachment is conveniently located on the wheel head so that is can be easily swing down into position. The standard spindle quill admits grinding wheel of given diameters up to a width of 9 mm.
TAILSTOCK The spring loaded , Oil bath, Heavy duty tailstock spindle has MT-3/MT-4.(hydraulic Operated Tailstock available with optional) The tailstock travels smoothly all along the length of table right up to the work head. The clamping of the tailstock is by means of a nut & bolts.
COOLANT Generous coolant supply is provided with an electrical pump fitted on a separate tank, measuring approximately 24" x 12" x 12" (L.W.H.) and having a capacity of 60 liter water
multiple step grinding Possible with CNC model
In OD Grinding Travel and plunge both cycle possible with this model
ID Grinding Cycle Track and Travel available with this machine
Auto dressing and Auto compensate with single switch
Half grinding cycle dressing, Auto dressing compensate and dressing alarm indication available.
MPG have 1, 10,100 Micron input increment possible for Easy setting and offset purpose
Mounted Electrical Control Panel easy maintenance, operating and handling
Key Features CNC Cylindrical Grinding Machine
Heavy Ribbed and Optimally analyzed structure for best thermal and vibration damping.
Seasoning Processed structure for lifelong Accuracy.
Precisely Hand scrapped Guide ways with Anti Friction TURCITE-B Coating for best Results.
Heavy Duty Work head and Tail Stock.
Axis Movement through ground preloaded Ball screws.
Cartridge type Super Precision Spindles and Hydrostatic Bush bearing Both model available .
Complete Protection of guide ways from coolant and grinding dust.
Custom Screen for easy operation and programming.
With Inbuilt Rough , Semi finish , finish grinding cycles.
Centralized Auto Lubrication System.
Grinding package of FANUC/ Siemens.